No matter how old your home or property may be, electrical problems can arise at any time. Read this article for more information on keeping your electrical units maintained to prevent future electrical issues as well as preventing any property damage or hazards altogether. Learn about the top warning signs and electrical problems to look out for in your home today.
---
Issues With Your Circuit Breaker
Ensure that your circuit breaker is fully functioning and up to date. Issues can arise once your circuit breaker begins to trip. The easiest solution to this may just mean resetting the switch. However, if you find that your circuit breaker still trips, turn off all your appliances and light switches and then reset your circuit breaker. If you still find your circuit breaker to trip or even overheat, you will want to contact a trusted electrician immediately such as Asbury Electric to prevent any damage or fires.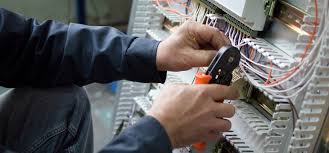 ---
High Electric Bill This Month?
If you are wondering how to cut down your electric bill or what may be the cause, you may want to consider a few factors and implement some tips and tricks to lower your next bill. One of the main reasons your electric bill may be high could be due to your heating and cooling thermostat settings. If you have increased your heating or cooling thermostat by even 5 notches, you are looking at as much as a 10% increase in your electric bill. Air leaks may also be the cause. If you find yourself always running to turn on the heater during the winter or turning on the air conditioner during the summer, there may be an air leak present. Have an expert electrician check to see if your windows and doors are fully sealed. Lastly, next time you take a shower you may want to time yourself. Using less hot water throughout your home could help lower your electric bill significantly. Washing clothes with cold water is just as effective as washing with hot water.
---
Problems With Your Light Bulbs
This issue is more common than you may think. Light bulbs tend to be the main resource for the light in your home aside from the sun. Over time, light bulbs can burn out quickly if there is bad wiring, a poor connection that can cause dimming, or perhaps the number of watts is too high for your home to handle. Look into the current type of light bulb you have and make the switch to use energy-saving light bulbs. If the electrical problems in your light bulbs continue, please contact a licensed and trusted electrician such as Asbury Electric to further diagnose and resolve the issue preventing further problems and damage.
Have any questions? Contact the experts at Asbury Electric (757) 768-7147 today.