Asbury Electric has been servicing the Williamsburg area for residential and light commercial electrical work for over 10 years. We specialize in quality, professional service to our customers.
We care deeply about you and your home. Not only is your 100% satisfaction a promise, but it's also our guarantee. The ultimate electrical safety of you and your family always comes first.
If you are a homeowner near Williamsburg or any surrounding communities in Hampton Roads, we are proud to offer you a range of full-service repairs and installations. Simply give us a call, or send us a message to talk to a friendly, knowledgeable representative.
---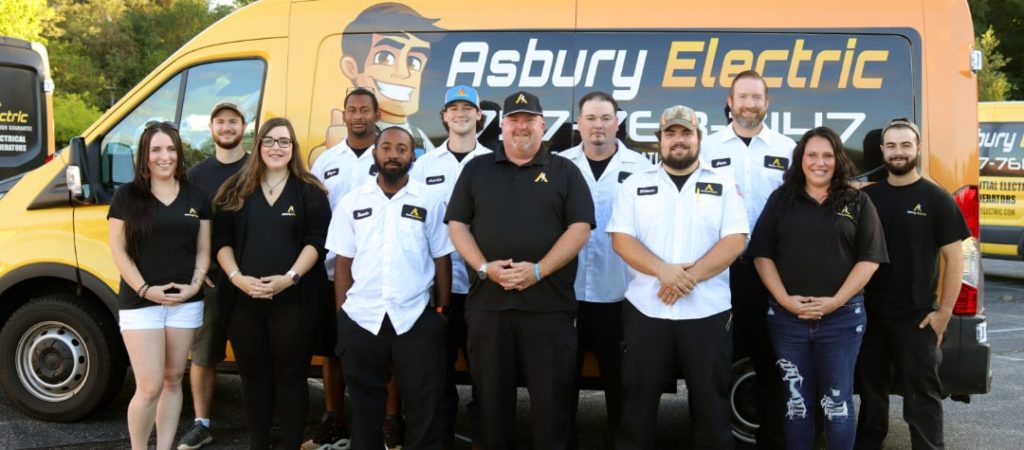 Our Commitment To You
When it comes to electrical services, our customers are at the heart of everything that we do. We always strive to have honest prices that won't change as the work progresses. In most cases, we offer same-day service for customers who call before 10:00 AM, and our electricians are always on time for every appointment.
---
A Few Of Our Local Electrician Services
We offer many different services from ceiling fan installation to electrical panel wiring. Whether you need a simple repair or a more complicated renovation project, we are ready to come alongside you to help make your home as comfortable as it can be.
Emergency Electrician
It is extremely important to us to provide emergency services 24 hours a day for our Williamsburg customers. We know how crucial it is in protecting the safety of homeowners in the area. You should always contact an emergency electrician if you notice smoke or hot outlets as these can both be signs of an electrical emergency.
In case of an out-of-control fire, call 911 right away before taking any other actions. If you and your family are safe you can use a fire extinguisher to get rid of any open flames. However, never use water on an electrical fire, and exit the house immediately if anyone has been injured or is in danger.
Always keep up with maintenance and repairs. The cost to replace an electrical panel is far lower than the cost of fire damage repair or injury. However, an electrician is always there for you in the case of an electrical emergency.
To learn more about what to do during an electrical emergency, consider checking out our blog post. "What To Do In an Electrical Emergency"
Electrical Repair
When you call and schedule a repair, one of our licensed electricians will come to your door with a fully stocked truck, ready to diagnose and repair any problem that you may have. Electrical repairs can range from minor to more serious, but it is always important to call as soon as you notice a problem. What may seem like a small problem may be more dangerous than you realize, so any malfunction in your electrical system should be dealt with right away.
Although Williamsburg is a beautiful place to live, occasionally heavy rains can cause water damage in properties. If your property has experienced any water damage from leaks or plumbing problems, it is always a good idea to contact a 24-hour electrician right away to find out if there was any damage done to your electrical system. Doing so can mitigate anxiety about a potentially dangerous malfunction.
Installation and Panel Upgrades
Regardless of whether you are building a new home or upgrading an old one, we have the right services for your needs. We offer circuit breaker installation, and we can rewire an area to accommodate a new light fixture or ceiling fan.
Many old houses are in need of an upgrade in their electrical systems to support new smart systems, larger appliances, and greater overall electrical use. If you find that you are experiencing frequently blown fuses as a result of high electrical needs, you may need to invest in a fuse box replacement or a new circuit breaker. You can contact one of our friendly team members for help with choosing the right system for your home.
---
Indoor & Outdoor Lighting
Lighting installations can be challenging if you haven't had formal training like our local electricians. Whether you want to add recessed lighting to your patio or finally install lighting in your garage, we're the team of experienced professionals to call.
Lighting Installation
In your Williamsburg, VA, home, you flip a switch and your lights come on. But do you know exactly where the power comes from? Electricity flows through walls, ceilings, and floors, and installing new lighting requires a professional to access these interior areas safely.
The electricians at Asbury Electric understand the safety concerns associated with lighting installation and will make sure all wires, cables, and electrical lines are installed correctly to deliver power and protect your family from dangers such as an electrical fire.
We're qualified to perform lighting installations indoors as well as outdoors. We can work on entryways, pools, or your deck to create the radiant environment you dream of.
Landscape Lighting
Landscape lighting adds to the beauty of your backyard oasis while also increasing your family's safety. It can illuminate shrubs and walkways to prevent accidental falls. Adding light to the exterior of your home can also deter potential intruders.
Kitchen Lighting
You visit your kitchen multiple times a day. Whether you're preparing your morning coffee or enjoying a conversation with friends over tapas, you spend many hours in this one room. With the right light, you can create a warm and inviting space. We'll work with you to provide customized lighting solutions that suit your style and needs.
Ballast Replacement
If your home has fluorescent lighting, ballasts are required to limit the electrical current flowing into the bulbs. Replacing these can be challenging for a homeowner because a ballast is designed to match the specific light bulb originally installed.
Instead of wondering how to accomplish the task, avoid confusion and frustration by letting the pros at Asbury Electric handle your ballast replacement.
Other indoor and outdoor lighting services we provide include:
Lighting controls
Recessed lighting
Under-cabinet lighting
Not only will the final results meet your expectations, but you'll also feel confident knowing the electrical work will meet local code and industry standards.
---
Local Electrician Home Improvement and Safety
Nothing is more important than your family's safety. We provide services to improve the functionality and increase the protection you get from your Williamsburg, VA, home.
Electrical Panel Inspections
Your electrical panel should have regular inspections to ensure that it provides a sufficient amount of electricity to your home. If it can't, your system may become overloaded, requiring frequent electrical repair.
Older homes often can't handle the demands of modern living, so we may recommend an electrical panel upgrade to support your needs.
We'll also examine any fuses or circuit breakers for proper connections and any signs of damage, residue, or smoke.
Carbon Monoxide Detector System Installation
Every home is at risk from noiseless, odorless, tasteless carbon monoxide gas. Thousands of people die every year in their own homes because of this silent killer. To reduce the risk to your family, we offer carbon monoxide detector system installation services.
Our trained electricians understand how this small device can save lives, and we install it safely and quickly.
Outlet and Switch Upgrades
Just like you need the occasional electrical panel upgrade, you may need to do the same for your outlets and switches. If you're installing new appliances or completing renovations, you may need newer outlets and switches to handle the increased electrical demands.
Modern electrical outlets are more flexible, safe, and reliable than outdated outlets. Our team of local electricians will equip your home with suitable equipment to keep your home safe.
Smoke Detector Replacement
One of the most important safety devices in your home is the smoke detector. These devices give life-saving protection to families in Williamsburg, VA, and throughout the United States. Because house fires are all too common, installing smoke detectors should be at the top of your list when doing home improvements or renovations.
If you need a replacement smoke detector installed, contact the team at Asbury Electric. We're ready to take your home safety to another level.
Home Generator Installation and Repair
Without electricity, even a few hours put you at financial risk. Besides being inconvenient, a lack of electricity could result in a refrigerator full of spoiled food and grocery money down the drain.
You can prevent all that when you let us install a home generator. If you're one of our previous customers who took advantage of this service, we can repair your existing unit.
These aren't the only home improvement and safety services we provide. Our team is also trained in the following:
Rewiring
Nest doorbell installation
Outdoor security lighting
Smart-home technology
Whole-home surge protection
EV Car Charger Installation
Accessing a charging station is essential if you've converted to an electric vehicle. What's more convenient than having one in your own garage? With an electric vehicle charger at home, you won't have to worry about the inconvenience of finding the closest station in Williamsburg, VA.
At Asbury Electric, we're here to provide a solution to your problem. We can install an electric vehicle charging station with customization to suit your needs.
Above-Ground Pool Electrical Packages
When installing a pool, electrical work is a crucial, often unexpected component. You'll want to bring in an expert local electrician because working near water can be tricky. Our team is familiar with National Electrical Code (NEC) Article 680, and we'll ensure the electrical work around your pool meets the standards of this required code.
---
Generator Sales and Repair
As part of our repair and installation services, we offer generator sales and repair. Many people find the thought of having a backup generator comforting. Having a whole home generator means that your food won't spoil in the fridge during a power outage, and you will still be able to see your way from the living room to your bedroom after dark.
If you are looking for a generator for sale, we sell high-quality units from reputable brands like Kohler and Generac. Not only this, but our generator electrician is also the best in the area, with years of experience as Chief Maintenance Technician in the Coast Guard. If you need a generator repair or you are hoping to invest in your first generator, we have everything you need to guarantee power during the next power outage.
---
Be a Safety and Savings Plan Club Member
As part of our electrical services, we offer membership with our Electrical Safety and Savings Plan. For $12.95 per month, you have access to discounts and seasonal specials that are only available to members. As part of the plan, we will come to your home yearly to do a safety inspection and find any potential safety hazards. Additionally, you always get front-of-the-line service whether you need to replace an electric panel or install a ceiling fan.
At our company, we are proud to provide the best service to our Asbury Electric family. With quick installations and thorough repairs, your home is in safe hands. Contact us today to set up an appointment for your electrical installation or repair.
---
Our Specialties
We handle all kinds of electrical work on homes but here are some areas where we specialize:
Safety
One of the biggest reasons we do what we do with such passion is because we are obsessed with safety. There are too many amateur "electricians" out there who are cheap but just plain dangerous. Please let us inspect your home and ensure that there are no issues.
Generators
We are one of the few companies in the area that will install AND service your generator. Let the professionals handle your generator installation and give us a call. We specialize in Generac, Kohler, and more.
Regular Maintenance
We have an Electrical Safety and Savings Plan membership club for our Williamsburg customers for an incredibly affordable, low rate per month. This is a great deal that will not only give you peace of mind that your home is taken care of, but will also pay for itself in future discounts on service. It's a bit of a no-brainer.
---
Why Hire a Local Electrician?
It goes without saying, that electricity is powerful. Local electricians have gone through extensive training to understand how to safely complete a dangerous electrical repair or electrical panel upgrade. Additionally, they know the local Williamsburg, VA, codes that must be followed and corresponding installation techniques to meet those requirements.
When you work with someone local, you're contributing to your own community and local economy, too. It can also be comforting to hire a contractor who knows the area and has roots in the same place as you.
Electrician Financing Options
We know that an emergency electrical repair can result in unexpected expenses. That's why we offer financial solutions through our partnership with Ally Bank. You can have any work done, including an electrical panel upgrade or home renovation project, once you've been approved for financing.
Club Membership
As a resident of Williamsburg, VA, you're part of the Asbury Electric family. That's why we've designed savings plans that offer you valuable discounts.
We have three service levels, including your annual maintenance appointment and "front of the line" service for emergency electrical repair. With three price levels, there's something for every budget.
Join our Club Membership today and start saving!
---
Professional Electricians Near Williamsburg, VA
At Asbury Electric, we've built a team of licensed electricians committed to serving the Williamsburg community. We also serve Virginia Beach, Gloucester, Suffolk, White Stone, and the surrounding areas.
There's no job too small, or a problem too big for our experienced technicians. With the comprehensive electrical services we offer, our team can be your go-to source for any of your electrical needs.
Whether you're ready to commit to a home generator or need an electrical panel upgrade, one of our skilled professionals will be at your service. Call your team at Asbury today to learn more about our services and how we can help you!