If you are thinking about installing an inground pool, consider a few key aspects that you might not have originally thought of, such as the electrical work. Electrical work can be dangerous regardless of the environment. The risk increases when you are working near a water source – such as a sink, a pool, a hot tub, or a water feature like a fountain. Even if you think you have the knowledge to properly install the electrical work needed for a pool, you will still need a licensed electrician to complete the job in order to pass inspection by your state.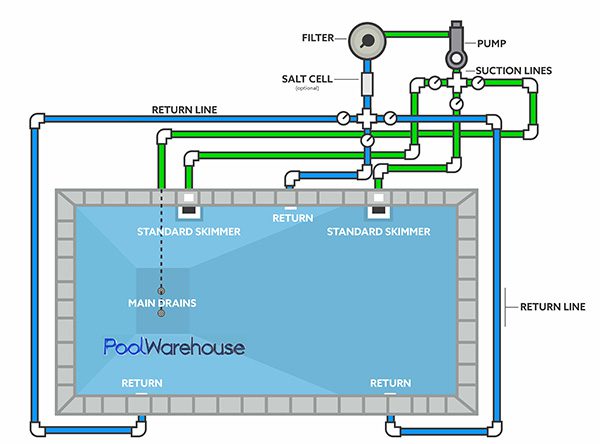 When looking for an electrician, make sure they have experience with swimming pools. In order for your pool to pass inspection, you will need to adhere to the National Electrical Code (NEC) Article 680. Your swimming pool electrician should already be familiar with Article 680. If they don't seem to be, you should consider finding an electrician with more pool experience. Here are the main requirements listed by Article 680.
---
Pool Bonding
Pool bonding is similar to grounding (like you would do in a kitchen or bathroom) where there is a sink and you need to install a GFCI (ground fault circuit interrupter) outlet. However, because the amount of water the electricity could come in contact with is so large, there are much stricter safety precautions. Article 680 requires the use of #8 solid copper wire to bond the pool walls and the deck and create a path for electricity to follow if a mishap does occur.
---
Where Does the Sub-Panel Go?
A sub-panel, which usually branches off from your home's main breaker box, will supply electricity to the pool area for lighting, the water pump, and any heating features you have. Your swimming pool electrician should know the best place for the sub-panel. Its location is determined by Article 680, which states the specific distance the sub-panel and pool equipment (pump, etc.) must be from the pool. Depending on how far your house is from the pool, you may have to budget more money to have a trench dug to bring the power from the house to the sub-panel.
---
Be Informed!
In order for you to be able to tell if your electrician is familiar with swimming pool installations, you need to know a little bit about the process as well. Read up on Article 680 and familiarize yourself with the requirements so you can ask questions about what's going on with the installation.
---
Plan Ahead
It's important to have a good swimming pool electrician, and the best electricians will be busy during the warmer months because that is when most construction takes place. Get in touch with and book your preferred electrician in advance so you are sure they will be available when it's time for you to begin your pool project. You can also get in touch with the electrical inspector ahead of time and ask for a guide to the inspection process. That way you won't be surprised by any new code once your pool is complete, and it will help you to tell if your swimming pool electrician is up to date with the code. By contacting the inspector, you can also find out if there are regional codes that are stricter or vary from Article 680. The most common variance from regional restrictions involves pool bonding.
---
Get References
Your swimming pool electrician might tell you they have experience with pools, but it's important for you to know for sure. You will be putting a lot of money into this project and you are putting a lot of trust into your electrician to keep your loved ones safe while they enjoy your new pool. Getting references from the electrician will help you identify whether they are legitimate or not, what kind of service you can expect, and the quality of their work.
---
Asbury Electric Near Gloucester, VA Can Help
When you are planning for your inground pool, it's important to look at the entire process. Although it may not seem like it, your swimming pool electrician is one of the most important parts of the process and will keep your family safe. Don't take a chance, contact a contractor that has proven they know what they are doing. Contact Asbury Electric to ask about our electrical installation experience with swimming pools and to discuss your plans to stay cool this summer.
For more information on pool electrical safety, check out https://www.delawareliving.coop/pool-electrical-safety-guide